Festival season is already underway in the States, with the likes of Coachella last month and the up-and-coming Lighting in a Bottle this weekend, with many more to come throughout the summer. Most attendees look forward to these events for months, with some buying tickets as early as a year prior to the festival without even knowing the upcoming lineup of artists. With large festivals like Coachella grossing amounts of $85 million in 2015, it's easy to see why there has been an insurgence of new festivals every summer eager to cash in on the summer craze.
One of these new festivals however, did not meet up to these expectations…by a LONG shot. In fact, the festival never even took place. Hip hop icon Ja Rule and 26 year-old entrepreneur Billy McFarland were the main drivers behind the now infamous Fyre Festival, a supposedly one-of-a-kind luxury festival for the above average festival goer. Located in the Bahamas, tickets ranged anywhere from $1k for a basic ticket upwards of some $250k for ultra lavish VIP experiences. Attendees of Fyre Fest were promised lavish accommodations including private tents and villas, gourmet food served by "celebrity chefs", and exotic outdoor activities that included swimming at the beaches with local pigs. The festival was also promoted by popular socialites on Instagram such as Bella Hadid and Kendal Jenner. Acts that were set to perform included Blink 182, Major Lazer, Disclosure, and others.
If this all sounded too good to be true, then you are absolutely correct. What initially promised to be a unique and luxurious experience, quickly turned into a third-world nightmare for ticket holders who showed up to Fyre Fest. First hand accounts of the isle of Exuma where the festival was supposed to take place indicated that none of the accommodations were remotely in place. Instead of high end villas, there were open top white tents strewn about a gravel field. Instead of celebrity chefs, guests were given a piece of white bread with cheese with a sloppy looking salad. Not to mention almost all of the artists that were "booked" pulled out days before for not being paid. On top of all this, any guests were stranded on the island as flights were overpacked and rerouted due to the massive failure of this event.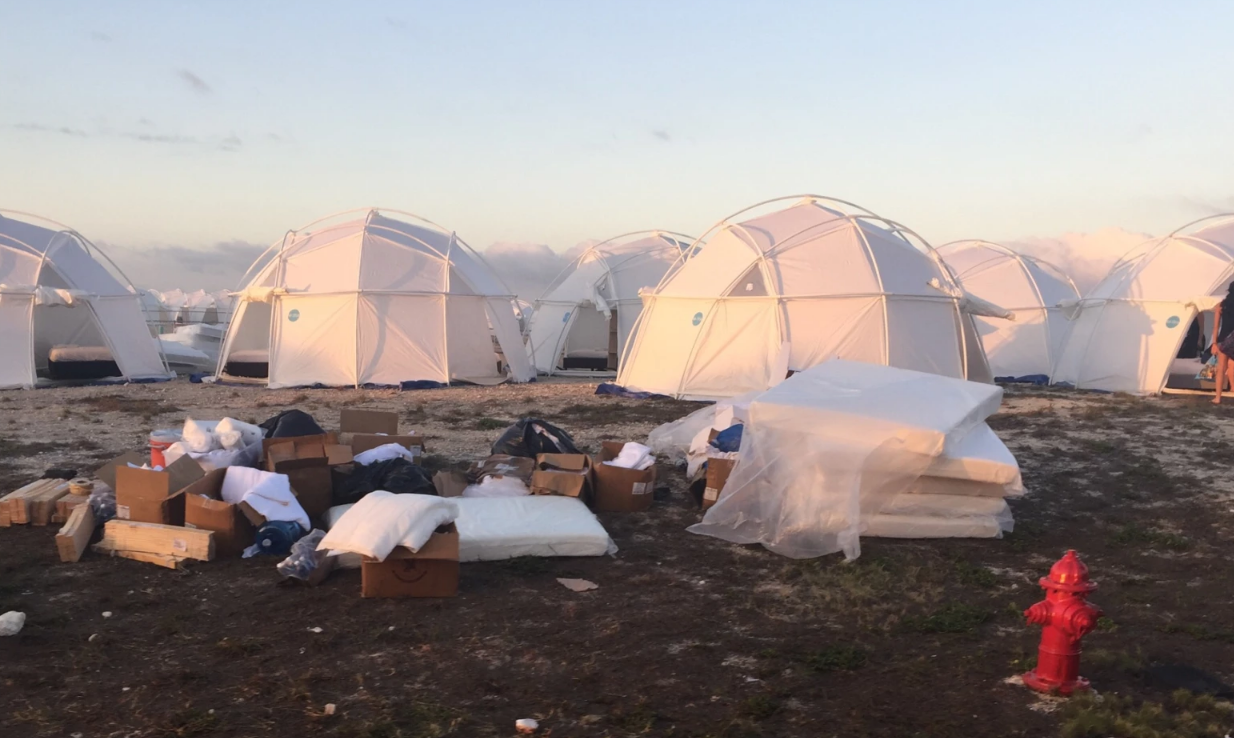 Now the execs behind Fyre Fest face with hundred of millions of dollars in lawsuits, and a criminal investigation opened by the FBI. So how did this once lavish extravaganza turn into a PR and legal apocalypse?
Lack of Experience
The first and most obvious aspect of the failure of Fyre Fest was that the executives in planning had no idea what they were doing, or how much time and planning was actually required in setting up a major festival. Months of work and mapping out goes into a succesful festival to secure a site, purchase and acquire the necessary permits, seek out vendors and talent, and to market that all to the public. Every account from behind the scenes seemed to indicate that Billy McFarland and team could simply wing it and come out on top.
Industry vets have weighed in on the matter and said "The traditional way of promoting a festival is: Find a great site, make sure it works, then select some talent and put together marketing and put tickets on sale. They took the traditional method and did it the opposite way. It seems like you should know if there's running water before you put on a festival on your site."

Over-Selling Guests
Given the fact that Billy and his team were admittedly "a little naive" to say the very least, you would think that they would start small and solidly deliver on the experience in their first year, and focus on building up that experience in successive years. That's what every major festival like Coachella and EDC have founded their success on. However, Billy McFarland seemed to be completely out of touch with what was happening within his team, and with what he would be able to deliver. Instead of focusing on delivering a moderate festival with some luxury accommodations here and there, they shot for the moon and promised every luxury they could imagine. Former employees of the event say that some of the top marketing people said in actual meetings: "Let's just do it and be legends, man". Yikes.
Zero Infrastracture
As mentioned above, any good festival needs a secure site with easy avenues of travel capable of delivering basic components to their guests such as running water, bathroom facilities, emergency and paramedic services, as well as food and beverages. Picking a small island in the Bahamas already presented a significant amount of challenges in these regards, and to top it off with severely underestimating the time it would take to get these services in place, it's no wonder this event ended up as guests described as a "Syrian refugee camp"
Additionally, festival attendees were asked to load all of their extra funds for food and travel electornically onto their wristbands as Fyre Festival was advertised as a cashless event. However, once it was clear that the event was not going to happen, many guests were stranded due to the island's severe lack of ATMs and almost all of the cab drivers and restaurants using cash as payment
Not Listening to Good Advice
Probably the most disappointing aspect of this failure, and where many of the legal warrants kick in, is how many people who were working for Billy McFarland tried to warn him and his exec team that this event was not going to happen as described in the time that they had, if at all. Red flag after red flag was ignored, from a lack of festival infrastructure, to talent pulling out for not getting paid, to seasoned staff in the event industry quitting or being fired way too close to the festival date.
It seems almost impossible how the directors of the event thought they could proceed with these kinds of setbacks, and still deliver the experience they had been touting. Even more ridiculous, was that they failed to notify any of their guests of this information and let them fly to the island anyways with no heads up until it was far too late.
With the legal status of Fyre Festival pending, it's unsure at this time whether Billy and Ja Rule will attempt a re-do of this massive disaster. They have promised that all ticket holders this year will receive free VIP bands for next year, but that may be a moot point now. More importantly, it may have damaged the perception of other smaller indie festivals, as many organizers of these up-and-coming events are now worried that this will affect the public's view of their brands, and may keep them from purchasing tickets to their events. Hopefully, the music industry will learn from this colossal failure of an event at the importance of good planning and sage advice, before meeting with the same fate as the now seemingly poisoned brand of Fyre Festival has met.